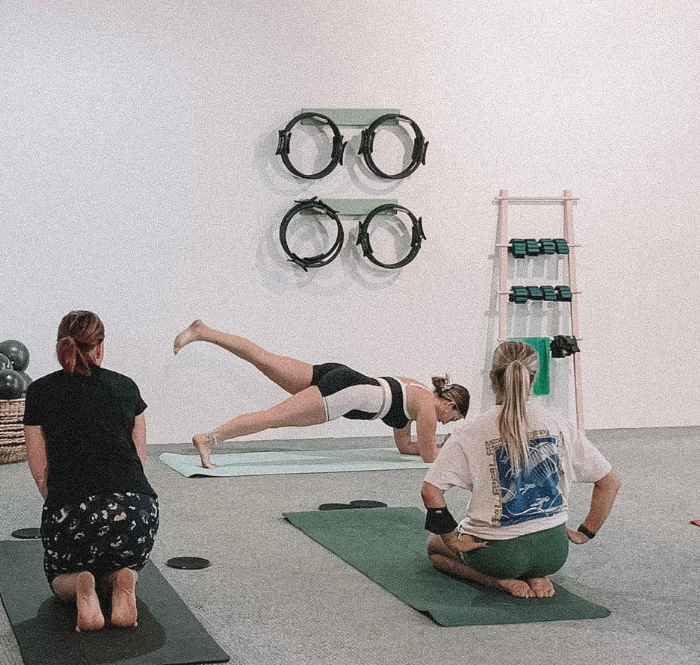 Zofia Flow

Zofia Flow your way into a happy mind, happy bod, happy life; that's what they're all about.
Choose between OG Flow Classes, Online Zoom classes, Power Flow, Hybrid Flow, Slow Flow and 30 minute burn, you can book from the below classes on the Zofia Flow website.
OG FLOW

The original flow class. 45 mins of delicious flow on the mat. Suitable for each and every body; this class takes traditional Pilates and add a few Zofia spices to it in this baby - but it's up to you how spicy you make it! We will cue all sorts alterations for those who are more advanced or less advanced to ensure we tailor to everyone in the studio. The class for all, the OG flow.
POWER FLOW

This one's gonna get HOT! Taking Pilates and HIIT style exercises and mixing into one big steamy 45 minute flow. Carefully constructed to get the absolute most of each and every exercise, targeting the whole body with a low impact, high intensity deliciousness. Don't be scared of this one though! You'll still get that beautiful sense of satisfaction as we flow through this class and Zofia Flow guarantees you'll be leaving the studio absolutely on top of the world.
SLOW FLOW

Let's take it back to basics for this one. 45 minutes of Slow Flow, taking us through the Fundamentals of Pilates and all the way into the nitty gritty parts of the body with postural work, spinal articulation exercises, lumbo-pelvic control work & so much more. Perfect for beginners, for those coming out of injuries or post natal, or those who just want to learn a little bit about how we can use Pilates to get our bodies feeling better and stronger than ever. The Slow Flow classes are also just oh so satisfying, try it once and you'll absolutely be back for more.
30 MIN BLAST CLASS

Short for time? Zofia Flow have got you covered. 5 mins to warm up, 5 mins to cool down, 20 mins of high intensity, deeeeep muscle burn. Glues & core focused, low impact, BIG results. You'll walk out with your booty and abs on FIRE. Again - this one is up to you how spicy you make it. So don't be scared to give it a go!
HYBRID FLOW
Find our HYBRID FLOW class exclusively on a Saturday morning. Taking our OG Flow & our Power Flow class and mixing it into 1 hour of juicy, delicious flow. Spice level is up to you, as always. Challenge yourself and amp it up with me, or listen to your body and keep it simple (simple? She's joking right?) if you need to.
Opening Hours
| | |
| --- | --- |
| Wednesday | |
| Thursday | |
| Friday | |
| Saturday | |
| Sunday | |
| Monday | |
| Tuesday | |